Affordable Stucco Repair Hoover, Birmingham, Al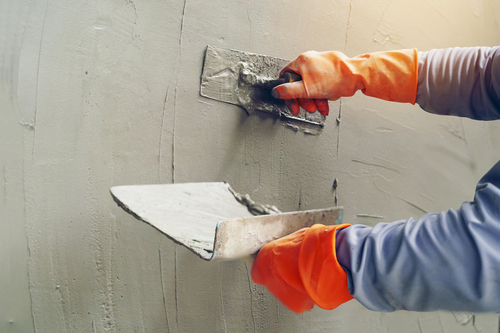 Stucco needs to be maintained just like traditional types of siding. Moisture issues and building settling can become problems without proper maintenance. Impact damage is damaged caused by storms, animals and people. Sometimes these are unpreventable and need to be addressed when the damage happens or it is discovered.
Let us give you a free Estimate on any stucco repair in Birmingham, Al and Hoover, Al area. Call (205) 835-5111.
Stucco Water Damage
Stucco gets damaged primarily by water and it is the number one problem with stucco. It is the most expensive repair and is usually caused by incorrectly installed stucco. That is why it is so important to work with a professional stucco company with the knowledge and experience to apply stucco correctly.
Signs of stucco water damage
Stucco cracks
Water stains on stucco
Water stains inside of your home
Humidity or moisture in your home
Mold smell inside of your home
Missing pieces of stucco
Missing caulking on stucco
Missing Flashing
Causes of stucco water damage
Hydraulic Pressure
Wicking
Surface Moisture
Improperly Installed Flashed Roofs or No Gutters
Stucco Water Damage Solutions
Each repair depends on the location and size of the damage. Before a repair to the stucco is performed, it is imperative to find the cause of the damage. Was it an improper installation, impact damage, or water damage? If the cause is a faulty stucco application, sometimes the entire stucco has to be removed and installed correctly. Another cause could be a busted pipe behind the wall which caused a leak and crack in the stucco. The pipe is repaired first then the stucco. We do not repair the stucco without finding the cause and taking corrective action to fix the problem.
Stucco repair cost
Stucco repair costs are determined on a case by case basis, because each situation is unique. Stucco repair costs not only depend on the size of the repair, but also the difficulty of the terrain and height of the house. Scaffolding is one of the most expensive parts of a repair. We are experienced and have a stucco specialist on staff. We will work with you to resolve your stucco problems with professionalism and integrity.
What about Insurance?
Does insurance pays for stucco repair? It depends on the specific cause of the damage. If your stucco was damaged by faulty installation, insurance usually would not pay for the repairs. If a tree falls on the stucco or other types of storm damage, or water damage coming from the from inside of house, most insurance policies will cover the repair. It is important for a stucco professional to find the cause of the damage and work with your insurance company for payment.